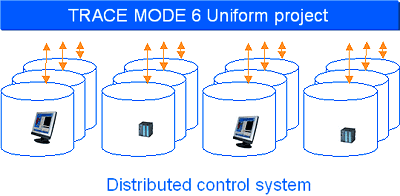 Whatever large a distributed control system can be, it would be developed in TRACE MODE® 6 as a unitary project. The real-time database is distributed to all the project nodes (PC or controllers). Each node in the distributed control system, operating under TRACE MODE® 6 and T-FACTORY.exe™ 6, can use parameters and the results of calculations performed by other nodes.
Thus, the TRACE MODE® 6 provides flexible DCS-like distribution of project variables, increasing the overall reliability of the control system.
The unitary project technology provides the following advantages with respect to the old technology using various programming facilities for different components of the project:
no duplication of variables, typical for the PLC-OPC-HMI technology. In the TRACE MODE® 6 project, the variables are input once and are reusable everywhere – in any controller, at any operator PC, at MES, EAM, HRM servers;
TRACE MODE 6 and T-FACTORY.exe 6 based systems can be easily upscaled. Logical structure of the project is independent from the hardware, and therefore the same project can be allocated at the 1, 10, or 100 PCs at one mouse click;
global references system allow to link variables, algorithms, templates. etc. of the project, located physically at different PCs;
project integrity monitoring. Due to availability of the integrity monitoring, errors are revealed during each compilation of the project. In addition, the TRACE MODE® 6 would inform the developer about attempts to delete a project component linked to another one;
debugging of all nodes of the distributed control system at one PC;
global diagnostics in real time – visualizes values of any channel attributes at any node in the operating control system.
Due to the unitary project technology, it is easy to develop, support and upscale even large-scale distributed control and manufacturing automation systems.