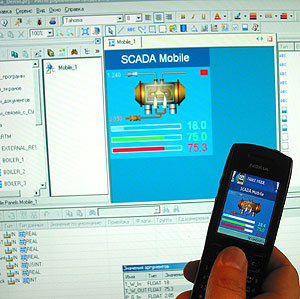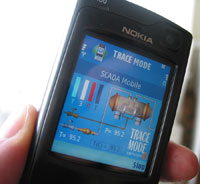 The mobile office workforce will enjoy using another TRACE MODE product to access remote control systems - SCADA Mobile. SCADA Mobile feature provides the mobile phone users with an HMI wireless access to real time control system data. The TRACE MODE mobile applications can run on any Java-enabled mobile phones. TRACE MODE SCADA Mobile offers a GUI with animated screens, trends or bar graphs. The phone buttons can be used to navigate through the screens or enter control commands.
The SCADA Mobile project is done in the intuitive TRACE MODE Development System as a normal HMI screen. To run any application on the phone, one need to install a TRACE MODE runtime module (Java MIDlet) depending on the phone. You can get MIDlets for different phone models for free by simply downloading them from our web-site.
The MIDlet for TRACE MODE SCADA Mobile is free and available for downloading from AdAstrA web site.
TRACE MODE Data Center MIDlet for Mobile Phone Free Download