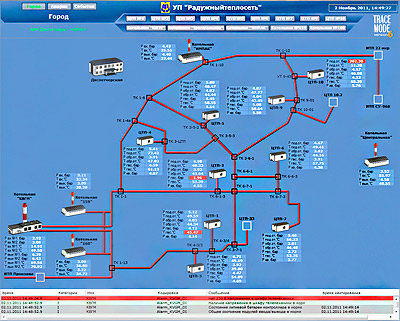 SCADA software for industrial remote monitoring and control systems are quite different from the common HMI software used in local control systems.

The large distances between elements of the remote monitoring and control system are the reason that the connection is not always available and is not always stable. The alleged poor quality of communication is the main difference between the remote monitoring and control systems and conventional process control systems in terms of information technology.
Ensuring reliable remote control and remote data acquisition in telemetry systems requires special technologies that are not available in conventional HMI software. In remote monitoring and control systems the so-called RTU (Remote Terminal Unit) are used instead of PLC. If a regular PLC performs the functions of receiving, logical processing and transmitting information in real time, then the RTU, in addition to the PLC functions, must constantly check the quality of communication with remote PC and, if there is no possibility of delivering information to the central dispatch center, accumulate it into a buffer, and then, after establishing a connection, upload the buffer on the central PC. At the same time, the SCADA software in the control room should be able to receive both real-time information (when there is a connection) and historical data (received after the connection is restored), as well as correctly log it in the archive of the control room PC, recording the actual time of occurrence of the remote events (and not the time when the information about them was received on the host).
Therefore, RTU and SCADA systems for remote monitoring and control are usually more expensive than common PLC and HMI for local control systems.

TRACE MODE SCADA possesses advanced control technologies for reliable data exchange and acquisition in case of poor quality of communication. At the same time, the cost of TRACE MODE SCADA and hardware RTU with TRACE MODE software inside are lower than the industry analogues.

Consider what technologies make TRACE MODE SCADA a full-fledged remote monitoring and control SCADA.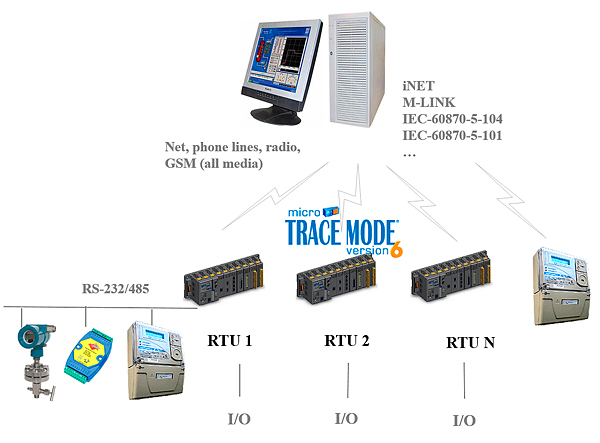 TRACE MODE iNET - Noise Proof Remote Monitoring And Control Protocol
Information exchange in the TRACE MODE 6 integrated SCADA- and SOFTLOGIC system is based on the high-tech TRACE MODE-iNET protocol. The iNET protocol runs on top of the TCP / IP transport protocol.
The iNET remote monitoring and control protocol provides reliable data exchange between elements of the telemetry system in the high noise environment, disconnections and even prolonged lack of communication. To do this, iNET has several important anti-interference technologies that are applicable in networks with poor communication quality.
In the case of short-term communication failures between SCADA servers and RTUs under control of TRACE MODE, the system automatically uploads the non-transmitted data and monitors their safe reception.
In case of high communication instability, TRACE MODE SCADA uses a more powerful buffering technology. When the connection is lost, the measured data and related alarms transmitted via the TRACE MODE iNET protocol, are being buffered, and then, when it is restored, they are sent to the addressee to be logged to the SIAD archive. Moreover, this technology is used both for the RTU - PC and PC - PC data exchange, on all project nodes of the TRACE MODE SCADA.
Finally, if the connection between the dispatch PC and the RTU is session-based, a third TRACE MODE fail proof technology is used.
Note that, despite its telemetric properties, the iNET protocol is perfectly applicable to the common control system. If a high-speed real-time data exchange over a reliable network is required, then anti-interference functions in iNET are simply disabled.
TRACE MODE Telemetric Time Service
In fact, the data of remote sensing are often being received in the SCADA control room with a significant delay. The TRACE MODE telemetric time service provides the real time of event occurrence and uploads it to the host, ensuring to correctly link events to the timeline.
In the case of using TRACE MODE SCADA software in a conventional process control system, the remote monitoring and control time service can be disabled.
Support Of IEC 60870-5-104 And IEC 60870-5-101 Open Protocols
In case the use of TRACE MODE's own remote monitoring and control protocols - iNET and M-LINK is unacceptable for some reason (for example, if a third-party device is used as an RTU), then TRACE MODE can be interfered to RTUs with open protocols IEC 60870-5-104 and IEC 60870-5-101. Support for the IEC 60870-5- telemetric protocols is implemented in both SCADA RTM (for PC) and in the Micro TRACE MODE (for RTU).
It is also possible to exchange data between RTM (SCADA) and Micro TRACE MODE (RTU) with each other using IEC 60870-5-104 protocol.
Connecting a PLC to TRACE MODE via IEC 60870-5-104 client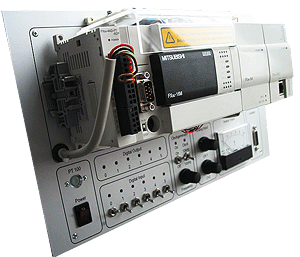 The video tutorial given below shows how to connect a Mitsubishi FX3U PLC to RTM via Ethernet using IEC 60870-5-104 protocol. The PLC runs a program providing IEC 60870-5-104 server features.
If you don't have a Mitsubishi FX3U PLC, you may use any other IEC 60870-5-104 enabled PLC changing IP address and settings. You may also find free demo versions оf IEC 60870-5-104 emulators on the Net.
Download here the demo project (professional format) developed in the film.
TRACE MODE RTM and Micro TRACE MODE as IEC 60870-5-104 servers
This didactic film shows how to develop a system in which the TRACE MODE RTM will be a IEC 60870-5-104 server. Another RTM (client) will connect to it via the IEC 60870-5-104 driver. Note that Micro TRACE MODE (for controllers) may be IEC 60870-5-104 protocol server too. The Micro TRACE MODE set up for data exchange is done in the same way.
Download here the demo project (professional format) developed in the film.
Note! The IEC 60870-5-104 slave feature is supported in RTM and Micro TRACE MODE having over 127 channels.