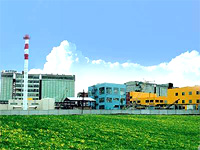 The oil extraction plant "Volshebniy Kray" (Morozovsk, Russia), which is the largest player in this industry across the southern regions of Russia and is a part of the agricultural group Aston, opted for SCADA TRACE MODE 6 to provide automated pumping, automatic batching and fail-safe supply of vegetable oil.
The "Volshebniy Kray" vegetable oil refinery, was launched in 2004. This is a high-technology, completely automated plant designed to output up to 1 mln. tons of refined vegetable oil daily. Today, this is the world's leading vegetable oil producer in terms of capacity. By launching a new plant, "Volshebniy Kray" secured a leading position at the Russian refined vegetable oil market and joined the world's largest vegetable oil refining companies.
The new SCADA TRACE MODE 6 based system for automated dosing, pumping and supplying vegetable oil delivers around-the-clock control capability for dosing oil from a 4-ton storage. The storage includes 4 tanks providing asynchronous supply and automated automatic batching of vegetable oil. While one tank is being filled, the other is supplying the product. The system controls product input pumps and discharge, while offering accurate product supply control using tensometric sensor readings.
For the hardware level of their automated oil automatic batching system, the plant management choused I-7000 controllers (ICP DAS, Taiwan). For the operator interface, they opted for SCADA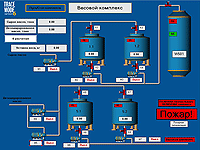 TRACE MODE 6 (Moscow, Russia). Surprisingly, it took just one week and one engineer to develop the human machine interface. The AdAstra's System Integration Department worked closely with the customer to help complete the automated automatic batching project.
The new SCADA TRACE MODE 6 based control system for automated dosing, pumping and supplying vegetable oil is a part of the all-new refining line that delivered x8 capacity increase for Volshebniy Kray – the plant now produces up to 1 mln. liters of oil daily.
"We sell 6 mln. bottles of oil monthly and look to ensure additional sales growth," said Eduard Kravchenko, Aston's CFO. Currently, Aston company has a 7% share of the Russian packaged oil market and is among the three top companies exporting bottled products.