TRACE MODE In Dispatch Of a Cement Sludge Preparation Facility

Permavtomatika, Authorized System Integrator of AdAstrA Research Group, LTD across the Urals, deployed a new dispatch system for the sludge preparation facility at Gornozavodskcement.
Developed using SCADA TRACE MODE 6, the dispatch system at the sludge preparation facility acquires data via the I 8811 controller (ICP DAS, Taiwan) running Micro TRACE MODE 6 for I8000 software. The controller receives all essential data regarding the sludge preparation process:
levels of the horizontal sludge pools;
motor, pump and mixer currents;
bearing coolant flow and pressure.
A group of remote sensors transmits data (regarding levels of the vertical sludge pools at the sludge preparation facility) to the I-7017 distributed input/output modules from ICP DAS to be sent over RS-485 network. Additionally, the system measures energy consumption by Logika meters connected to TRACE MODE via an OPC server.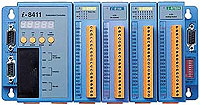 The data is collected on operator PC running ТRACE MODE 6 RTM + software. The monitoring system provides data logging features for the process parameters of the sludge preparation facility, while TRACE MODE 6 Global Documentation Server automatically generates clear and detailed reports.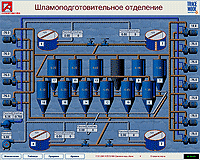 Shortly, Permavtomatika is to implement a new control project for the compressor room and for the primary mill. In future, the company aims to implement an end-to-end SCADA TRACE MODE 6-based control system covering all processes at Gornozavodskcement.
Micro TRACE MODE 6 Software for I-7188 Controller Programming Now Released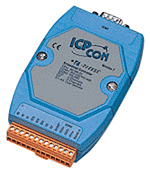 In August, 2006, AdAstra has announced the release of the Micro TRACE MODE 6 runtime software for popular I-7188 controller programming(ICP DAS, Taiwan).
Micro TRACE MODE 6 is an OEM module specifically designed for I-7188. The software features integrated support of I/O cards of I-7000 series and those compatible (ADAM 4000, TECONIK, NuDAM-6000, RIO-2000, etc), allowing deployment in control system applications.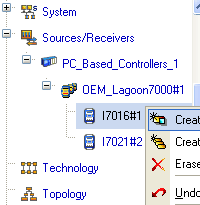 The autobuilding technology, makes the adjustment on ICP DAS I/O modules surprisingly easy.
The I-7188 controller programming is done in the easy TRACE MODE 6 development system using 5 languages of IEC 6-1131/3 standard (or their combination). The IEC 61131-3 controller programming languages include 3 visual (FBD, SFC, LD) and 2 text languages (ST, IL).
The I-7188 controller programming software supports standard algorithms for data processing and control employed in control systems. Working in editor, you can debug any user's program in a step-by-step or continuous mode. The SPY mode for online project diagnostics at the setup stage is also available.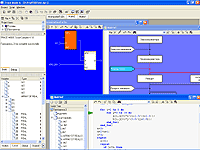 Using I-NET TCP/IP, one can easily connect the programmed I-7188 controller to SCADA TRACE MODE 6 based operator's PC via Ethernet 10 Mbit/s. You can also program the controllers and SCADA PC in a uniform development environment, inputting all setup parameters only once and re-using them freely on any physical device included in your project (at the controllers and PCs). Additionally, the autobuilding procedure means automatic setup of I-7000 network parameters.
The ICP DAS I-7188 controllers programmed in TRACE MODE, ca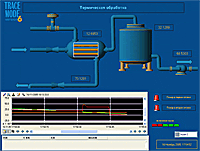 n be also connected to other SCADA HMI software via optional OPC server.
The new software provides cost-effective solution, while delivering efficiency for small-sized distributed control systems. Some of successful Micro TRACE MODE 6 applications include building and facility automation, food and processing industry, utility, agriculture, lab research, etc.
The software price significantly depends on the number of licenses purchased, with an average cost of 50 USD per 1 controller.
TRACE MODE HMI for Building Material Production in Uzbekistan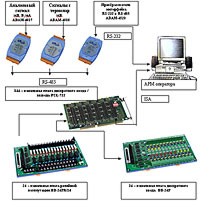 PROIZCOMPAVTO (Fergana, Uzbekistan), an authorized AdAstra's system integrator, has been successfully implementing SCADA/HMI & SOFTLOGIC-system TRACE MODE in process control systems at Uzbekistan enterprises producing cement, roofing slate, glass, glassware for more than 5 years.
PROIZCOMPAVTO's solutions are known for their economic efficiency (about $150 per a single input/output), effectiveness and high reliability, which has been verified by many well-known Uzbekistan industrial enterprises.
QUARTZ Plant (Kuvasai, Uzbekistan) is the main glassware manufacturer in the Central Asia. A reconstruction of the glass-making shop has been performed jointly with TEKIN company (Italy). This shop
provides the architectural, automobile and hardened glass with the thickness of 2 - 10 mm. PROIZCOMPAVTO's engineers have implemented SCADA TRACE MODE in the control systems for glassware production, refractory brick production shops, in the control systems for the atmospheric protection station and the compressor shop.
SCADA/HMI TRACE MODE is also successful in controlling the production processes at KYZYLKUMCEMENT Plant (Navoyi) where the process control systems have been developed for:
- 15 schenck metering devices for charging raw material mills,
- 8 raw materials mills, flour preparation for clinker burning furnaces,
- 3 rotating cement clinker burning furnaces,
- spiration process control systems, etc.
In KUVASAICEMENT Plant (Kuvasai), SCADA/HMI TRACE MODE has been successfully operated in process control systems for 4 rotating clinker burning furnaces, 3 asbestos and cement metering devices for roofing slate production.
TRACE MODE has also been implemented in process control systems for clinker grinding mills at AKHANGARANCEMENT Plant (Akhangaran) and BEKABADCEMENT Plant (Beabad).
SCADA TRACE MODE is widely used in the production of building materials. The system is effectively operated at such enterprises as Glavmosstroy-Beton, Nevyanskiy Cementnik, Novorosscement, 9th January Glass-making factory and at many other enterprises.
TRACE MODE Based Control System for Cement Production: Pay-Back in ... 1,7 Months, Net Profit 600%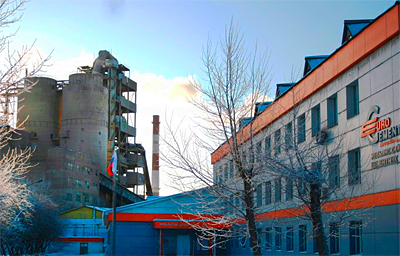 The "Nevyansky tsementnik" company (Russia) is the oldest cement factory in the Urals, which had been operating since the year of 1914. However today the "Nevyansky tsementnik" is one of the Russia's most technically advanced enterprises of this branch of industry with a complete cycle of the production of cement using the dry method. In terms of the volumes of production in the Urals region, the enterprise ranks the third place. In the all-Russian rating it has been assigned the 18th place.
Actually on the main objects of the technological line constituted by the rotating furnace and the refrigerator, a 500 I/O large TRACE MODE 5 based control system was implemented.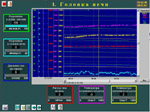 According to the technical director of the factory, the implementation of the control system resulted in stabilization of the technological process, providing an increase of hourly production efficiency of the rotating furnace from 115 ton/hour, up to 125 ton/hour (+ 8.7%). The half of such a success is attributed to the SCADA/HMI TRACE MODE 5 based control system effect.
As a result, the initial investment of $ 42.500 approx. made by the cement plant, according to Mr. N.Yu. Egorov, Deputy Superintendent of the Shop for control systems, led to the savings during the first year equal to $ 89100. The return on each dollar, invested into the TRACE MODE SCADA/HMI amounts to 6 dollars of the net profit (606.23%)! The pay-back period of the project - 1.7 months.
"With TRACE MODE implementation we got a positive experience" - says Mr. Egorov - "Now we plan to closely co-operate with AdAstra further for applications of such a convenient and reliable software".
The New TRACE MODE SCADA/HMI Release 6.10.2 Available For Download

AdAstra Research Group, Ltd (Moscow, Russia) has announced a new release of integrated SCADA- and SOFTLOGIC- system TRACE MODE 6.10.2.

The release is now available for all registered users of TRACE MODE 6 SCADA/HMI for free (it is free for download from the User's Personal Account).


In accordance to increased security requirements of unauthorized access and user authentification in the process control software, new means of user rights management have been introduced. In the 6.10.2 some new features added, bugs detected fixed.

The new release 6.10.2 offers new software products and some improved features ......

TRACE MODE SCADA/HMI Controls Kudankulam Nuclear Power Plant Fire Safety System

SKB Tensor company (Russia, Moscow region) has developed and successfully commissioned an automated fire safety system for units №1 and №2 of Kudankulam Nuclear Power Plant, India (Tamil Nadu).

The automated fire safety system for units №1 and №2 of Kudankulam nuclear power plant, India runs under control of TRACE MODE SCADA/HMI (AdAstrA, Russia).

TRACE MODE SCADA/HMI performs the following functions ...

DPTA Corp is TRACE MODE SCADA/HMI Software Dealer In Ho Chi Minh City (Viet Nam)

The Ho Chi Minh City based (Viet Nam) Duc Phong Technology and Automation Corporation (DPTA) has the status of AdAstrA Authorized Dealer. The corporatin

has the experience and

qualifications to

sales and customer support for

TRACE MODE SCADA/HMI software.

TECHNOLOGY CORPORATION AND GERMAN STYLE AUTO was established in 2006, with a team of professionals, engineers, management staff are formally trained, motivated and experienced customers always trust.

TRACE MODE 6.09.2 New Release Available to Users

Adastra Technical support team announces a new release of an integrated and SCADA- SOFTLOGIC-system TRACE MODE 6.09.2.

The new release has successfully passed Microsoft certification tests for compatibility with the Microsoft operating system Windows 8.1.


The new release 6.09.2 offers new software products and some improved features ...

TRACE MODE SCADA/HMI Controls Ventilation in a Riga Commercial and Office Center

A Riga city based Sia Rameda company (Riga , Latvia) has used russian made TRACE MODE SCADA/HMI software to develop a control system for ventilation, heating and cooling equipment in the RD Holding commercial and office center in Riga (street Maskavas 240, Riga , Latvia).

The main purpose of the work is to connect all ventilation machines, chillers and heating units to a centralized computer, supervisory control system to ensure round the clock equipment monitoring from a single center.

The Sia Rameda engineers have replaced an old ....

Training Video: Connecting Mitsubishi FX3U PLC to TRACE MODE SCADA/HMI via Melsec Protocol

Learn how to connect a Mitsubishi Melsec FX3U PLC to TRACE MODE SCADA/HMI through built-in driver with our new free online video training.

To run the film just ....

Teknofeed Uses TRACE MODE HMI in Fodder Additives Plant Batching Control

A Belgorod based AIT company (South of Russia) has successfully used TRACE MODE SCADA/HMI software to develop and to implement a batch control system for manufacturing of fodder additives. The control system has been installed in facility of TeknoFeed (Tshebekino, Belgorod area, Russia).

The main task of the TeknoFeed control system consists in the most precise batch dosing of fodder additives. The control system maximizes batch dosing accuracy of loose and liquid components (acids) according recipes.

The TeknoFeed batch control system includes ...

TRACE MODE SCADA/HMI In Control of The Biogas Fuel Production Plant in Poland

The Test company (Poland) used the TRACE MODE SCADA/HMI software to build the control system for the plant of biogas fuel production from the sewerage - Elbląskie Przedsiębiorstwo Wodociągów i Kanalizacji w Elblągu Sp. z o.o., situated in Elblag city in north-eastern Poland.

The Elblag city is a Polish leader in energy production from renewable sources, including biogas and biomass.

According to the developers of biofuel production systems, the use of SCADA TRACE MODE has reduced the overall cost of the project in two-three times (compared to the same level SCADA software).

The system monitors the following values ...

Adastra Releases TRACE MODE 6 RTM for Linux

AdAstra Company (Russia) announced the release of real-time monitor (LinRTM) for the operating system Linux.

TRACE MODE RTM is the main runtime module of the integrated TRACE MODE 6 SCADA/HMI software, designed to operate on operator workstations.

The new LinRTM provides ...

The Brodsky Refinery (Bosnia) Implements TRACE MODE SCADA/HMI for EURO 5 Gasoline Production

In Bosnia, the Bosanski Brod refinery launched a second production line, which was repaired by the Russian company Zarubezhneft. Now the plant is able to produce the gasoline conforming to the Euro 5 standard.

The operator control systems for the gasoline production at the Bosanski Brod refinery were developped and implemented by several Russian system integrators. All integrators used Russian SCADA-software TRACE MODE 6 (AdAstra Research Group, Moscow) for process control of gasoline production.

New Brodsky refinery control system consists of the following parts ...

A New Free Driver for OMRON Sysmac PLC

AdAstra Research Group (Moscow, Russia) has released a new version of the free TRACE MODE SCADA/HMI driver for the OMRON programmable logical controller. The new driver is built in the TRACE MODE SCADA/HMI 6.09 release and above.

A video tutorial demonstrating the technology of OMRON PLCs connecting over the network via UDP using the free built-in driver, is available.

The new driver is much faster, easier and more functional than the previous ones. The new TRACE MODE OMRON PLC driver has the following important features...

TRACE MODE 6 SCADA/HMI In Control Of City Water Supply Utilities

The Iron–Technik company (Ust -Kamenogorsk, Kazakhstan), an AdAstra authorized system integrator, has launched into commercial operation an automation system for municipal public utility named "Oskemen" (Ust -Kamenogorsk, Kazakhstan ).

The new control system is build with TRACE MODE SCADA/HMI software and embraces 14 plants of the "Oskemen water utility" enterprise, e.g...