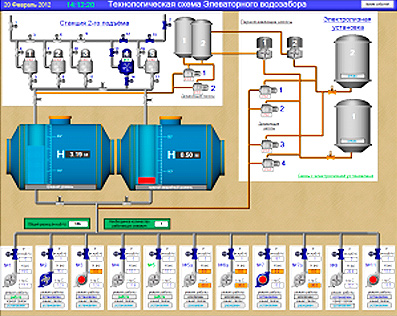 The Iron–Technik company (Ust -Kamenogorsk, Kazakhstan), an AdAstra authorized system integrator, has launched into commercial operation an automation system for municipal public utility named "Oskemen" (Ust -Kamenogorsk, Kazakhstan ).
The new control system is build with TRACE MODE SCADA/HMI software and embraces 14 plants of the "Oskemen water utility" enterprise, e.g.:
water intakes;
sewage pumping stations;
high rise pumping stations.
The HMI level of the water utility automation system run under TRACE MODE 6 SCADA/HMI consists of two operator workstations having the following functions :
real-time process monitoring and history logging of all parameters of water treatment and water transportation;
reporting for the selected time span for all process parameters;
complete record of the operator's actions;
accounting lifespan of pumping equipment.
The field level of the Ust-Kamennogorsk water utility control system consists of :
temperature, pressure , level, flow gauges;
control cabinets with WinPAC 8000 and VP-25W controllers by ICP DAS, programmed using TRACE MODE 6 softlogic software (Micro TRACE MODE );
actuators - pumps , valves , etc.;

The link between water supply objects carried by fiber optic lines , radio channels, as well as wired lines.
The TRACE MODE 6 SCADA/HMI based Ust -Kamenogorsk water utility provides the following features :
maintaining the necessary pressure in the main pipeline;
automatically switch to the backup pump group;
automatically maintain the water level in the reservoirs of clean water;
automatic control of wells, depending on the level in the reservoirs of clean water, time of wells pump óperation and of the well's switching priority;
automatic control for chlorination process , using metering pumps;
control of indoor temperature at the pumping and wells stations;
air ventilation control;
access control to the pumping and wells stations;
The system is fully launched into commercial operation.