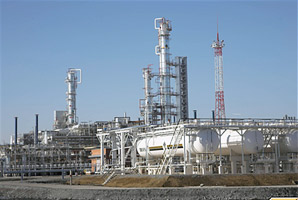 The Complex Information Systems Co. (Kazakhstan) together with Namip Industrial Solutions Co.(Russia) have finished the first stage of manufacturing control system for one of the Kazakhstan's largest plant Atyrau Oil Refinery. This control system is built with TRACE MODE SCADA\HMI software.
The new oil refinery control system consists of two components:
The YOKOGAWA PLC are used at the low level of Atyrau Oil Refinery control system. The connection between operator PC and PLC is carried out via OPC server.

The new TRACE MODE SCADA/HMI based control system includes the following facilities:
Diesel fuel production facility;
Hydrogen treatment facility;
Hydrogen production facility;
Sulfur production facility;
Cooling tower;
Isomerization;
Hydrofining of Petroleum;
Amine treating of gas;
Material balances and product's outputs.
All data is transferred to the corporate database ORACLE - one of most powerful and widely used database in the oil industry.
In order to build the total material balance of the Atyrau oil refinery, the control system accounts and consolidates the material flows from eight facilities. It makes tens of SQL-queries to database in real time, and on the basis of the data from the central laboratory about the characteristics of different petroleum products re-calculates material balance for the current temperature.
The new TRACE MODE based oil refinery control system provides both the automatic and the manual mode, with operator generated input of laboratory data.
The development and implementation of the control system was accomplished by highly skilled engineers, by those who know not only TRACE MODE SCADA/HMI software and process control technologies, but also deeply understand the production process of the oil refinery.
As a result the system implementation the departments of Atyrau Oil Refinery obtained the high end tool for monitoring, analysis and control of all stages of the oil refinery production process.