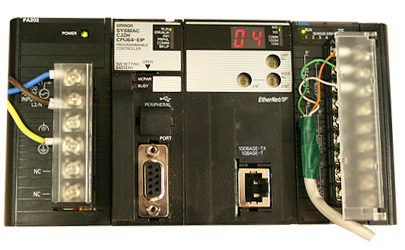 AdAstra Research Group (Moscow, Russia) has released a new version of the free TRACE MODE SCADA/HMI driver for the OMRON programmable logical controller. The new driver is built in the TRACE MODE SCADA/HMI 6.09 release and above.
Although the TRACE MODE SCADA/HMI software had drivers that enable data exchange with OMRON PLCs over network as well as via serial interface, the new driver operates over UDP and it is much faster, easier and more functional than the previous ones.
So, for example, the new TRACE MODE OMRON PLC driver has the following important features:
the new driver is multithreaded. It is possible to allocate up to three additional priority threads;
it offers quering the control group using CALL.ChGrReq channel;
in case of communication failure with the PLC, the new OMRON driver automatically switches to a special low-priority thread and also switches it back automatically as soon as the communication is restored;
no configuration file has to be manually created in order to configure an OMRON PLC from the TRACE MODE IDE 6.09;
the new driver allows setting timeouts for each device.
A more detailed description of the driver, as well as a video tutorial demonstrating the technology of OMRON PLCs connecting over the network via UDP using the free built-in driver, is given in the section located in the section "Free PLC and I/O drivers list" of site www.adastra.ru.
The new OMRON driver can be tested in real time in the TRACE MODE free development system. The free TRACE MODE 6.09 development system is available for the free download.
The wide library of free controller drivers , IO'sc and meters, covering more than 2812 devices distinguishes TRACE MODE 6 from other SCADA/HMI softwares.
For more information please see a complete list of controllers and IO's supported in TRACE MODE SCADA/HMI.