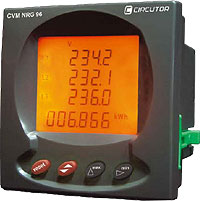 AdAstrA has completed development of the new TRACE MODE SCADA driver for CVM series Circutor power analyzers.
Circutor power analyzer combines sensor and secondary device functions in one product designed for measuring, calculating and displaying basic parameters of alternative current and two- or three-phase circuits for industrial and utility use (symmetric and asymmetric).
The new driver supports specific Modbus protocol features for CVM series power analyzers, which means that a control system developer does not have to additionally convert two 16-bit cells read by the fourth function of Modbus RTU protocol into a 32-bit value of parameter measured.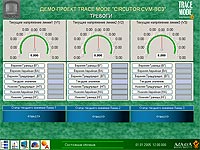 As a result, the new driver requires twice as less I/O points in the SCADA HMI TRACE MODE project and eliminates program conversion. The driver also supports group queries.
The sample SCADA TRACE MODE project for the Circutor CVM power analyzer is available at the Get Support section.
Currently, SCADA HMI TRACE MODE is supplied with free drivers for over 2812 industrial controllers, electric meters and I/O cards.