Large enterprises, using TRACE MODE and T-Factory as a corporate standard for their manufacturing and control systems, need an enhanced technical support, different from the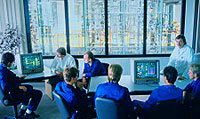 service provided for regular TRACE MODE users. AdAstra Research Group, Ltd understands the needs of TRACE MODE and T-Factory corporate users and especially for them the corporate technical support program was launched to satisfy the specific needs of the large companies.
The TRACE MODE and T-Factory corporate technical support includes the following options:
building a team of qualified support engineers responsible for the corporate customer technical support;
emergency on-site support;
assistance in setting-up of on-site support centers;
assistance in requirements specification processing for control system development;
consulting in hardware and software integration, assistance the technical policy selection;
manufacturing and process control systems project supervision;
assistance in selection of system integrators;
special software engineering (drivers, ActiveX, utilities, applications, etc.);
system audit and implemented control systems support.
To learn more about TRACE MODE и T-Factory corporate technical support, please contact the company's Sales Department.