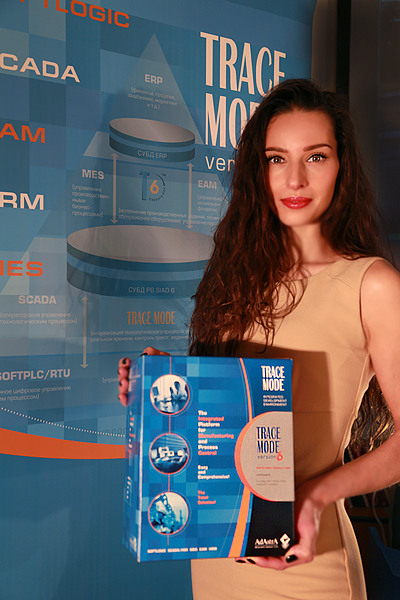 AdAstra Research Group, Ltd (Moscow, Russia) has announced a new release of integrated SCADA- and SOFTLOGIC- system TRACE MODE 6.10.2. The release is now available for all registered users of TRACE MODE 6 SCADA/HMI for free (it is free for download from the User's Personal Account).

TRACE MODE 6.10.2 – New In Release
Unauthorized Access Security Upgraded

In accordance to increased security requirements of unauthorized access and user authentification in the process control software, new means of user rights management have been introduced.
New Features Added
1. The constraint of the inter-node bindings number used while sending of Alarm report (AR) messages with use of the key ALANET_SEND_TONODE has been removed. If there are GEs (graphic elements) on node panels (consoles), which do display messages from the Alarm report, then the node will receive network broad-casts of messages coming from AR-server automatically. It's assumed that a node CONSOLE has bindings for data display.
2. The specification of AR-message categories has been extended. Additional categories, which do not require acknowledgments, have been introduced. If the filter «Non-acknowledged» applied, then such messages are not displayed.
3. The cut-through message broad-casting about acknowledgements of AR-messages between nodes is introduced. The broadcastings are:
from server to all the nodes are of the CONSOLE type, that are receiving these messages;
from a CONSOLE-node to the server.
4. Programmable and interactive e-mail sending feature for any node user has been enabled.
5. GEs «Contour» and «Rectangle» are transferred to a group «Flat Figures».

Detected Bugs Fixed
1. Tools of the file-document importation, headers/footers forming, trends with legend generation, formatting the output of variables during editing and document generation are resumed.
2. Control functions in GE «Contour» are restored.
3. The bug in displaying of discrete signals on trend has been fixed.
4. The display of discrete (on/off) indicators has been stabilized.
5. On the panel, for eGE «Date and Time», which has no link to an argument, the current time-value indication on panel and its components are supported.
6. HMI editor's stability is more up while compiling screen templates with graphic objects, which lost own linking to components of «Resources» layer (because of wrong project development practices (such as incorrect editing of screens and resource libraries, also import of screen templates).
7. Critical situation in procedure of «Re-linking of CALL channel arguments» fixed.
8. A function of the value input into a channel has been resumed. This is applicable in the profiler rmg32.exe and also in MicroRTM, in the channel tree, without expanding an attribute tree.
9. In MicroRTM a specification of «COM-port destination» has been enlarged, for interconnecting to devices by means of the channel CALL.Vector (E_Meter, Master and Mlink are added).
10. Recalculation setting "by time" of the channel process period have been re-organized.
11. A universal function of GSM-modems initialization has been resumed.
12. In the KR-500 (TCP) driver control commands specification has been extended, being adapted for setup of the free-hand number of controller.

Attention! While using release of 6.10.2, it is to take into account the following:
1. Because TRACE MODE DataCenter was not updated since 6.09.2. Use Data Center 6.09.2 if required.
a. For the EmbeddedConsole node it's to use a folder, created and compiled in the IDE 6.10.
The IDE 6.10 can be downloaded from the Trace Mode User Account on www.tracemode.com if required.
b. In the RTM starting configuration file for the node to which the EmbeddedConsole node is linked, enter a key OXP_START=ON.

2. Projects of releases 6.10 and earlier may be converted into format of 6.10.2 after sequential opening of screen templates and graphic panels, one by another, in IDE 6.10.2.
3. Output formats in Grpahic Panels (GP) are changed. In view of that, in some cases (when eGE are inherited out of old releases), changes in graphic forms executed in real-time are possible. When needed, appropriate eGE are to be open and edited. In particular, one can change display formats of text-related eGE, from Default to Auto.
.
4. In view of optimization applied to the visualization means of GP, dimensions of GP within one single node must be identical.
5. User component libraries (tmdevenv.tmul) of base and professional lines (IDEs) are placed in different folders. Files of component libraries (tmdevenv.tmul) (which have different formats for different IDEs) are placed if following folders:
c:\ProgramData\AdAstra\Trace Mode IDE 6\
and
c:\ProgramData\AdAstra\Trace Mode IDE 6 Base\
(OS'es Windows 7 and Windows 8.1)
c\:Documents and Settings\All Users\Application Data\AdAstra\Trace Mode IDE 6\
and
c\:Documents and Settings\All Users\Application Data\AdAstra\Trace Mode IDE 6 Base\
(OS Windows XP).

In order to use files of user component library (tmdevenv.tmul), copy this file from subdirectory %TRACE MODE%\LIB to to one of (existing) above mentioned directory (%TRACE MODE% is IDE's root).

New Features of SCADA TRACE MODE 6.10.2 Software Update

Note! Since the release 6.10.2, software upgrades are available only through User's Personal Account (updates are free-of-charge). The registered programs can be downloaded only. Program registration is also carried out through the user's personal account. Registration information is on the registration card of the software and in the license agreement.

For inquiries, please contact: http://forum.tracemode.com/.