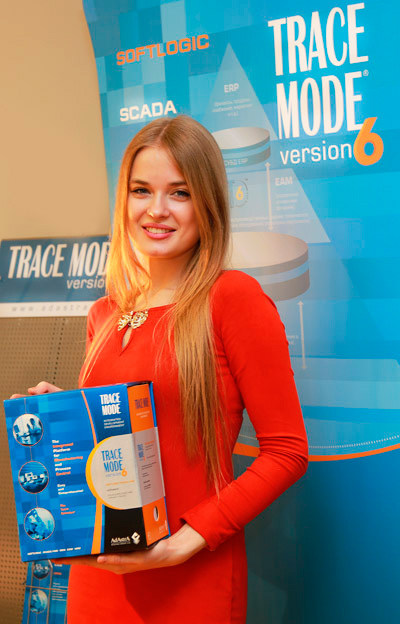 AdAstra (Russia, Moscow) announces the new 6.09 release of the integrated SCADA/HMI and SOFTLOGIC software TRACE MODE. Recommended operating system for the TRACE MODE 6.09 continues to be Windows 7.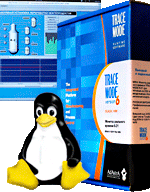 In the new 6.09 release contains some new software products and new features.
Among the new products:
TRACE MODE Real Time Monitor for Linux - LinRTM
The LinRTM 6 is an HMI software designed to run on the operator PC. The LinRTM is programmed in the standard TRACE MODE development environment release 6.09 and above for Windows, and can be run in real-time under Linux operating system.
Micro TRACE MODE 6 For xPAC-8000
Micro TRACE MODE 6 for xPAC-8000 - a new high-performance TRACE MODE OEM runtime module for xPAC-8000 industrial controllers (ICP DAS, Taiwan) running under OS Windows XP Embedded. The program features an enhensed productivity and more IO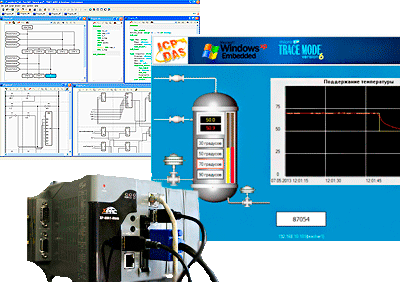 channels supported, expanded set of ready-made drivers, which includes xPAC-8000 IO and many drivers for other external controllers, remote input-output, energy meters and resources. Also, Micro TRACE MODE 6 for xPAC-8000 supports the OPC-interface (client).
The Micro TRACE MODE can be programmed visually in a handy TRACE MODE 6 development environment (IDE) for Windows (purchased separately) on any of 5 IEC 61131/3 languages. In most cases no programming is required to configure the controller. The main technological and computational algorithms are contained in the program as ready-to-use blocks.
New Features of The Built-In Drivers
A new version of the driver for OMRON PLC communication over UDP is released. A new mechanism of the traffic threading is implemented, having automatic shut-off and flow restoration feature in case of communication error / reconnecting.
New features added to the "universal exchange mechanism with electric meters." Now, it has become possible to connect power meters that do not have built-in clock.
In the 6.09 release the extended specification for connecting the T13- type driver is implemented, namely:

a group request added;
the software and/or used defined monitoring forwarding to different devices in real time feature is added.
an additional parameter interface added allowing to format data processing.
New Features of The Development System And RTM
Redirecting history archive to an external SQL database. The deta flow to the SIAD archives (as set during configuration) can be now redirected to an external SQL database using the ODBC interface.
A new CALL.ROOT channel added enabling sampling from various archives, flexible data aggregation and generation of documents and files.
The Internet Explorer browser can be used for viewing HTML files from RTM.
Modifications
Hot stand by mode synchronization system modified, in particular:

Improved redundancy control system.
Improved performance synchronization routines.
Reduced network load caused by synchronization.
Enhanced monitoring and control functions for COM-ports in redundant nodes and COM-ports modes. The "Assigning COM-port." specification expanded respectively


The alarm report queries engine by client consoles modified. The settings for servers and consoles data exchange are now set with special keys in the configuration files. The targeted mailings and targeted message requests feature added.
Modified function of Modbus group recording. The automatic transmission of channel changing arguments to the group record ChGroupReq type INPUT channel enabled.
The CALL.RT_Statistics channel modified. The specification for the statistical data processing is expanded.
Extended function of the channel DifSnap regarding processing of integer parameters.
A System variable @ Exit added. Now a RTM can be stopped by command.
A System variable @ Key_Code added. This new feature allows the software to process the signals from a 10-key keyboard and to create a string input.
Significantly accelerated the OPC server tag sampling in the IDE browser.
Enhanced debugging capabilities using keys errlock = errlockon = -> through the window components and ERROR_SHOWON - in the file *. Cnf.
Expanded and unified message about the state of the current node in the "Component View".
Standardized diagnostic engine of executive function channels CALL: error messages are passed to the attribute 240.
Custom component library tmdevenv.tmul basic and professional versions are located in different folders. Center files tmdevenv.tmul (with different formats for different IDE) are placed in the folder c: \ ProgramData \ AdAstra \ Trace Mode IDE 6 \ and c: \ ProgramData \ AdAstra \ Trace Mode IDE 6 Base \ (in Windows 7) or in c \: Documents and Settings \ All Users \ Application Data \ AdAstra \ Trace Mode IDE 6 \ and c \: Documents and Settings \ All Users \ Application Data \ AdAstra \ Trace Mode IDE 6 Base \ (in the operating system Windows XP). To use a custom component library file tmdevenv.tmul of subdirectories % TRACE MODE% \ LIB must copy it into the above directory.
Expanded and standardized the data exchange control and diagnostics with controllers using network protocols. Dynamic automatic redundancy for controllers provided with diagnostics and IP-addresses switching.
Note! Some Old Features No More Supported
On-screen display of the channels 102 and 103 of the "Universal-sharing mechanism with electric meters"
Automatic data processing before document generation.
Direct export to files of sampling results of archived data by assigning the initiating channel sample values 0xfff1, 0xfff2 and 0xfff3.
All samples from the archive when attributes of the parameter <32 is specified.
The channel CALL type 18, 19, 26, 27, 28, 34.
Output functions with SubNum> = 32000.
Corrections

Real-time monitor
Channel name output to the document explicitly referenced by name attribute (127) restored.
Diagnostics and data exchange recovery via COM-port adopted to the COM-port emulation by USB-converters.
The pop-up screen positioning in real time through the attributes of 242 and 243 feature restored.
Improved reliability of the port configuration for different Modbus TCP devices.
Improved the quality of data sampling by CALL.LocalList channel.
The RTM unauthorized stop possibility eliminated.
Raster drawing in multiple visibility management mode accelerated.
Modified the historical data sampling and display on trends for both local and remote requests.
Restored transfer of the message "Last alarm" to ActiveX.
In the graphical element (GE) "Database" for SQL-queries with a WHERE clause field names identification request ordered.
A confirmation dialog for control functions located next to the GE.
TRACE MODE DataCenter
The DataCenter communication stability increased (if there are any open connections in RTM and in stand-by modes).
DataCenter bugs in displaying the history trend data fixed.
A critical situation when duplicating archival curves on two screens fixed.
The display format is conformed with the format of the entry.
The XOR function in the control panel of the DataCenter restored.
Eliminated the conflict that arises in real time, while simultaneously drawing graphics on the screen and graphics in a document.
Integrated Development Environment (IDE)
In the GE "Cutout" eliminated conflicts arising at it re-editing and in real time.
In the GE "Histogram" the designation of the range ordered.
USE 'Transition' is created by default with a "view presentation" = "text."
Replacement of a remote video from the library with a new imported corrected.
Right display of a transparent background in animation restored.
Some enhancements in the user library are done.
New Features of SCADA TRACE MODE 6.09 Software Update
Note! Since release 6.09, software upgrades are available only through User's Personal Account (updates are free-of-charge). The registered programs can be downloaded only. Program registration is also carried out through the user's personal account. Registration information is on the registration card of the software and in the license agreement.
For inquiries, please contact: http://forum.tracemode.com/.