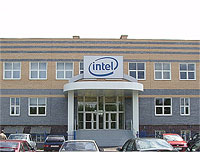 Protect Company (Nizhny Novgorod city, Russia) used the Russian SCADA/HMI software TRACE MODE 6 to develop a building automation system across Intel's office.
The total building area of 3,740 square meters is designed to accommodate about 190 employees. Intel's office boasts of the most advanced engineering infrastructure: power supply system (up to 2 MW of power!), and cooling station providing ventilation and air conditioning. The brand new building includes advanced server rooms, power supply stabilizing, leakage control, climate control, fire and security alarms, early smoke detection, fire-fighting system, etc.
The heart of Intel's automated building, TRACE MODE 6 SCADA/HMI provides the following features:
automates power consumption logging and monitors power supply parameters, such as voltage, current, wattage or waveform distortion factor;
automates status monitoring of the power entrance devices (on, off or pulled out);
automates status monitoring of the diesel generator;
automates status monitoring of uninterruptible power supply;
monitors status of the sewerage shutters;
monitors leakage;
monitors status of the fire retarding and smoke removal valves;
automates climate parameter;
monitoring across Intel's office, such as temperature and humidity;
automates monitoring of the heating pipes temperature;
monitors emergency status of the precision conditioners monitors and controls cooling, ventilation and conditioning.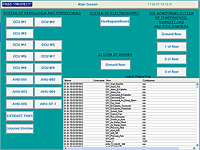 The new TRACE MODE 6 SCADA/HMI based system in Intel's building provides an intelligent automation solution by controlling devices such as chillers, dry coolers, cooling station, pump frequency converters, exhaust fans, central conditioners, fancoils.
The system builds upon the hardware below:
Advantech input/output modules
Sauter and S+S Regeltechnik temperature/humidity converters;
Jola leakage sensors and relays;
SAT 4TM power meters;
York temperature, humidity, pressure sensors, control valve drives; cooling, ventilation and conditioning controllers
Schneider Electric frequency converters.
Within Intel's building automation system, the operator PC communicates with the controllers using the built-in SCADA/HMI TRACE MODE 6 drivers:
Advantech modules and SAT 4TM meters - using serial interface;
York hardware and Schneider Electric frequency converters - using Ethernet via BacNet IP.
Trace Mode 6 RTM+ runtime module aquires and processes real time data from controllers. This system also provides operator GUI in English, offering greater flexibility. Enabling end-to-end automation across Intel's building, the system provides the following information screens:
Main screen containing buttons for navigation to additional screens and alarm report including emergency event information. The PC reports emergency events by a sound signal;
Additional screens offering detailed information on cooling, ventilation and conditioning;
Power supply screen providing data from SAT 4TM power meters, power entrance devices, uninterruptible power supply and diesel generator;
Screens with the plans of each floor providing information from climate control sensors, status of fire retarding valves, sewerage shutters, control of precision conditioner emergency status.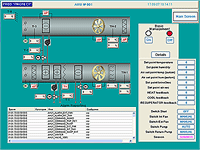 "By employing SCADA TRACE MODE 6 and its enhanced support of the hardware from various manufacturers, we have been able to provide a comprehensive automation solution for Intel's building," sais Pavel Kondratiev, senior engineer at the Protect Company. "The system is online now and ensures easy monitoring of engineering systems across the building."