A fire safety SCADA/HMI TRACE MODE based control system developed for a Linyuan oil tanks farm at the Datsin oil deposit has successfully been commissioned in China. The Datsin deposit is the biggest oil deposit in China (the annual oil extraction is about 50 million tons). The Linyuan oil tanks farm numbers more than 400 big oil tanks..
The decision to choose SCADA/HMI TRACE MODE for this project has been made after a long comparison with alternative solutions based on InTouch, iFix and WinCC SCADA/HMI software. The decisive factor for the TRACE MODE choice has become a better "price-performance" ratio provided by this system. At the hardware level the developers used PLC S7-300 by Siemens. The connection between TRACE MODE and S7-300 is carried out via an ОРС server.
In this control system,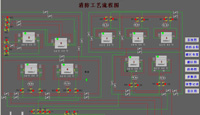 TRACE MODE provides data visualization of the state of oil pipelines coming to 42 tanks, the monitoring of the oil tanks fire safety system, alarming, control and interlocking, printing of alarm reports in the real time mode.
"The TRACE MODE SCADA/HMI has wonderful graphical tools. The TRACE MODE dynamisation capabilities, in particular, flow display tools, have produced a deep impression upon me", Mr. Chan Nan, Deputy Director of the Linyuan oil tanks farm evaluates the system. - "In the real time operation, TRACE MODE has proved to be highly reliable. During the nearest two years, we are going to establish a common network for all tanks based on the SCADA/HMI TRACE MODE".