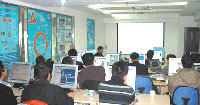 On December 12-23, 2005 in Beijing an Extended training for the process control system development in the integrated SOFTLOGIC-SCADA-MES-EAM-HRM software TRACE MODE 6 was held.
The SCADA training was attended by control engineers from China and Pakistan involved in the process control projects in power generation industry.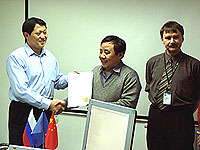 During the 2 weeks of training the trainees got strong knowledge in the theory and practice of control projects development in the TRACE MODE SCADA. New technologies of project creation, algorithm programming (as PC-based controllers as operator's PC), HMI, data logging, report generation, links with external DBMS, redundancy and debugging of every project's components were studied.
For such purpose a training project was developed based on controller with Embedded OS (MS Windows CE.net), operator's PC (MS Windows XP) and remote I/O modules connected to PC via serial port. The data exchange between controller and PCs were provided through Ethernet network. The English release of TRACE MODE 6.02.1 SCADA was used.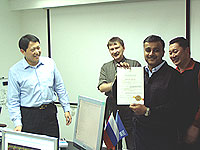 The trainees appreciated such TRACE MODE 6 SCADA and SOFTLOGIC features as the uniform project technology, project autobuilding, extensive I/O driver's library, ready-to-use resources, reliability and ease of the TRACE MODE use.
As a result, 12 control engineers were awarded with qualification "Certified TRACE MODE 6 Engineer".
AdAstrA plans to give more trainings for Chinese customers in 2006.