The easiest way to master TRACE MODE, to improve the qualification or to learn how to develop up-to-date manufacturing and process control systems is to get trained at the TRACE MODE and T-Factory Authorized training centre. Authorized training centers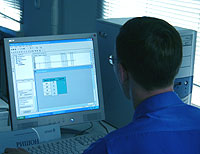 offer a broad sets of courses for engineers, programmers and managers covering the following issues:
Process control;
Manufacturing business process automation;
PLC programming;
HMI design;
Designing distributed control systems;
Enterprise asset management;
MES applications.
The courses are conducted regularly according to the timetable. In order to make a reservation, choose the appropriate course in the "Electronic shop" section.