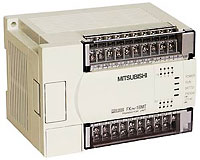 AdAstra Technical Support department anounced the new driver updates. FX Communication driver is designed for Mitsubishi Electric modular controllers. This driver supports the whole range of MELSEC FX PLC using serial port via FX Computer Link protocol.
The new driver provides SCADA TRACE MODE 6.04 communication with 32-bit integer counters, optimized communication via noisy data lines, as well as a number of changes improving driver functionality.
By successfully testing another way of SCADA TRACE MODE 6.04 communication with MELSEC FX controllers – via FX2N-64DNET communication module – DeviceNet bus support has been introduced.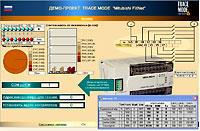 Currently, the range of Mitsubishi Electric MELSEC FX controllers includes over 80 base modules with different CPU frequency, memory size, number of integrated I/O channels and scalability features. With breakthrough reliability, high performance, advanced functionality and communication capability, and, importantly, attractively priced, these controllers have a proven track record of operation in technology equipment management systems. Started in 1981, the line has a successful history of 6 million installations of MELSEC FX base modules, making them the most popular controller line in Mitsubishi Electric product range and ensuring industry-leading position of the company in this market segment. The annual sales growth of these controllers in Russia is over 40%, which also suggests their strong competitive advantages.
Supporting Mitsubishi controllers, SCADA TRACE MODE 6 provides an optimal solution for almost any automation task. The modular MELSEC FX controllers are positioned to gain a significant market share and win new Russian customers loyalty within the next two years, say leading experts at ICOS, official Russian distributor of Mitsubishi Electric.
TRACE MODE 6 demo project featuring SCADA system communication with Mitsubishi FX controllers using FX2N-16MT is available for free download from the support section at www.tracemode.com, both for professional and basic SCADA versions.
The free SCADA TRACE MODE 6 drivers library covers 2812 I/O and PLC devices of different manufacturers.