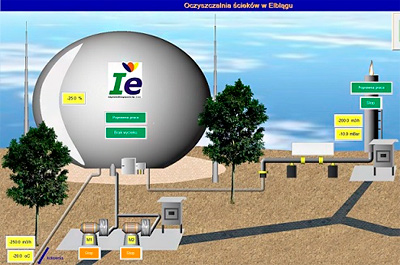 The Test company (Poland) used the TRACE MODE SCADA/HMI software to build the control system for the plant of biogas fuel production from the sewerage - Elbląskie Przedsiębiorstwo Wodociągów i Kanalizacji w Elblągu Sp. z o.o., situated in Elblag city in north-eastern Poland.

The Elblag city is a Polish leader in energy production from renewable sources, including biogas and biomass.
The biogas (methane) produced in Elblag water supply and sewage plant is used for the following purposes:
house heating;
as a heat source for industrial processes (heating of industrial facilities);
for electricity production.
Local energy companies are willing to buy biofuels from a variety of manufacturers, including even private households. The Elbląskie Przedsiębiorstwo Wodociągów i Kanalizacji w Elblągu Sp. z o.o. is among suppliers of environmentally friendly biofuels.
Recycling waste for biogas production is performed in a special sealed container. Raw materials are mixed with other components, such as dried grass, sawdust and organic waste. The mixture was vigorously stirred using special equipment. The decomposition of organic substances as a result of airless fermentation caused by the vital activity of anaerobic bacteria, a mixture of gases. A significant portion of the mixture of methane (60%), except that produces carbon dioxide (35%) and some other chemical compounds. The waste organics are used in the enterprise as fertilizer.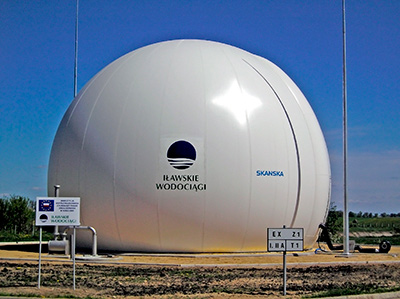 The Test Company is an Adastra authorized system integrator in Poland.
Hardware level of biofuel production control system is done with the GE Intelligent Platforms industrial controllers and Astraada HMI panels.
At the supervisory level, the new biofuel production control system uses TRACE MODE 6 SCADA/HMI software. The control system monitors the following values:
materials loading;
pressure;
gas leakage;
temperature in the vessel.

New biofuel production control system runs the TRACE MODE SCADA/HMI DocRTM+, which provides advanced data acquisition and logging, data visualization on HMI and on trends and to generate the required reporting documents.
According to the developers of biofuel production control systems, the use of SCADA TRACE MODE has reduced the overall cost of the project in two-three times (compared to the same level SCADA software).