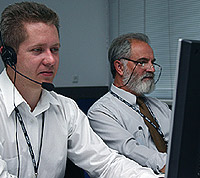 AdAstrA Technical support service announces the release of integrated SOFTLOGIC-SCADA-MES-EAM-HRM system TRACE MODE 6.04, which comes both in Professional and Basic lines.
TRACE MODE 6.04 includes updates to the following software:
Integrated development environment (development system);
Real-time SCADA servers - RTM, RTM+, DocRTM+, Double Force RTM+;
NetLink Light HMI console;
Global documentation servers;
Global loggers;
OPC server;
Real-time servers - T-Factory RTM+ and Double Force RTM+;
T-Factory NetLink Light GUI console.
SCADA TRACE MODE 6.04 includes the following additions and improvements:
Communications
OPC HDA support has been improved (in methods of writing collected data into history logs and outputting to screens and document trends).
TCOM6 interface has been improved. Now the driver receives more parameters.
HART communications support has been changed (in definition of master status).
New driver included in the list of supported devices – BACnet/IP driver for YORK controllers.
The specification of archive-based section forming features using DifSnap channels has been extended;
The specification of forced archiving features using Writer channels has been extended.
The archive status control using @q_SIAD_Q variable now features new functions enabling higher quality of archive copying procedures.
rtmg32.exe profiler now offers SIAD archive export feature.
A new graphical item Trend XY has been added (allowing control of functional interdependence of parameters in real-time);
The set of resource library editor commands has been extended:

the resource editor now includes undo-redo system,
the resource editor now contains replace command;

Text: when setting output format for textual graphical item, you can add an explanatory text;
Objects: the software now features a system for autobuilding of screen arguments and/or binding graphical object arguments to screen arguments when placing an object on screen;
Graphical item tables: additional actions for context menu of graphical item tables have been introduced;
It became possible to go back to the previous screen;
It bacame possible to set a sequence of control function execution and also benefit from improved autobuilding of screen arguments using arguments of the graphical object being placed;
In "Node Alarm Report" graphical item, it is possible to configure background for confirmed messages;
HMI/eHMI now features saving of graphical screen/panel in *.bmp file;
You can use automatic forming of graphical items using screen call feature;
The editor's screen zoom has been greatly improved.
Channel autobuilding and binding feature has been improved;
LINTER FBD-block update enables using 2D tables;
In real-time, you have current screen and user names displayed either in status bar or (in full-screen mode) to the right of the menu on a floating toolbar.
Additionally in the SCADA TRACE MODE 6.04 the following bugs have been fixed:
Navigation bugs and displaying trend when using "magnifying glass" zooming have been fixed;
The AVR output feature of STAT (Statistics) functional block has been restored;
Message confirmations with "line FROM" and "FROM node" graphical items available on one screen are now synchronized;
DDE server connection is now restored automatically after restart;
The function of automatic NLL switching between redundant nodes has been restored.
The AdAstrA quality department have thoroughly tested the TRACE MODE 6.04 in complience with ISO 9001:2000 standart. The new release is available for free download to current TRACE MODE 6 users at the support section of the site:
To update your existing version, please uninstall the previous release and install 6.04 release into your working directory.
In July-August, 2006, AdAstrA is to offer other SCADA TRACE MODE 6.04 products, including new software - TRACE MODE Multy-user Development Server, Micro TRACE MODE for i7000, Web-activator, Graphical HMI console for pocket PCs and cell phones, etc. To keep yourself updated, please visit www.adastra.ru regularly!
The next TRACE MODE 6.05 release is intended for November, 2006.
Ask your questions at http://forum.adastra.ru/ .