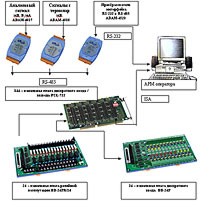 PROIZCOMPAVTO (Fergana, Uzbekistan), an authorized AdAstra's system integrator, has been successfully implementing SCADA/HMI & SOFTLOGIC-system TRACE MODE in process control systems at Uzbekistan enterprises producing cement, roofing slate, glass, glassware for more than 5 years.
PROIZCOMPAVTO's solutions are known for their economic efficiency (about $150 per a single input/output), effectiveness and high reliability, which has been verified by many well-known Uzbekistan industrial enterprises.
QUARTZ Plant (Kuvasai, Uzbekistan) is the main glassware manufacturer in the Central Asia. A reconstruction of the glass-making shop has been performed jointly with TEKIN company (Italy). This shop
provides the architectural, automobile and hardened glass with the thickness of 2 - 10 mm. PROIZCOMPAVTO's engineers have implemented SCADA TRACE MODE in the control systems for glassware production, refractory brick production shops, in the control systems for the atmospheric protection station and the compressor shop.
SCADA/HMI TRACE MODE is also successful in controlling the production processes at KYZYLKUMCEMENT Plant (Navoyi) where the process control systems have been developed for:
- 15 schenck metering devices for charging raw material mills,
- 8 raw materials mills, flour preparation for clinker burning furnaces,
- 3 rotating cement clinker burning furnaces,
- spiration process control systems, etc.
In KUVASAICEMENT Plant (Kuvasai), SCADA/HMI TRACE MODE has been successfully operated in process control systems for 4 rotating clinker burning furnaces, 3 asbestos and cement metering devices for roofing slate production.
TRACE MODE has also been implemented in process control systems for clinker grinding mills at AKHANGARANCEMENT Plant (Akhangaran) and BEKABADCEMENT Plant (Beabad).
SCADA TRACE MODE is widely used in the production of building materials. The system is effectively operated at such enterprises as Glavmosstroy-Beton, Nevyanskiy Cementnik, Novorosscement, 9th January Glass-making factory and at many other enterprises.