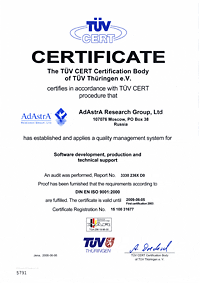 On 22nd March 2004 supervisory expert examination conducted by Intercertifika LLC jointly with TUV Turingen(Germany) have conformed the compliance of the AdAstrA's quality management system with the international standard ISO 9001:2000.
The AdAstrA's quality management system covers business processes of development, production and technical support. TRACE MODE® is the first in CIS and the second in the world SCADA/HMI-system, which development and technical support is certified for the compliance with ISO 9001:2000.
The AdAstrA's quality management technologies allow to check the quality of products at all stages of their life cycle – from designing to post-sale servicing. Each system release passes a thorough testing, which results are fixed and analyzed. Practically all company's document turnover covered by the quality management system is carried out in the electronic form. Software products, which quality does not conform with the standards adopted within the company will not be officially issued.
The use of quality management methods allows to provide the quality of TRACE MODE® at the level exceeding industry branch matches. Due to this fact, TRACE MODE® is widely used in critical control systems of hazardous productions in nuclear, chemical, defense, etc. industry branches.